When Grief Gets Awkward
Jul 21st, 2017 | Episode 59
Interacting with others while grieving can be wildly confusing and tricky. You've probably been there. You run into someone you haven't seen in a long time, likely in a public spot, and this someone doesn't know the person in your life died. Maybe they ask an innocuous, "How are you?" or more specifically, "How's your mom, dad, husband, wife, partner, sibling, or friend… doing?" On the spot, you're charged with either telling this person that your person died or faking a sudden and urgent task - maybe yelling out a "Hi! Sorry, I forgot I left my keys in the car. Bye!" In this episode, we talk with Caitlin Sweeney about these potentially awkward social interactions in the midst of grief. Caitlin's mom died of a pulmonary embolism in November of 2015. Caitlin is the youngest of two and until recently, lived in the same town as her older sister and father. Just a note of acknowledgment that this episode is not meant to shame anyone who's found themselves voicing platitudes in the face of grief. Platitudes are what we've been socialized to say and in a moment when we don't know what else to say, they tend to jump out of our mouths.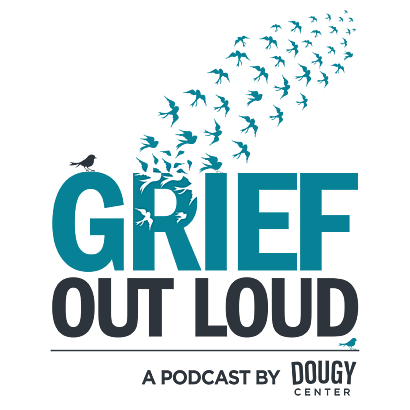 Support Grief Out Loud
"There are so many podcasts out there on grief but Grief Out Loud is one of only a few that focus on kids and families and strengthening those bonds after a loss. Jana DeCristofaro stands out as a smart, compassionate host who gets to the point of the story and goes deep with her guests. A great podcast for anyone dealing with loss."
Show your support for Grief Out Loud and open up more conversations about grief by donating or subscribing today. Your donations keep this podcast free from advertising and your 5-star reviews help others find us.
Grief Out Loud is supported in part by the Chester Stephan Endowment Fund in loving memory by the estate of Theodore R. Stephan.