The Right Place When Nothing Feels Right
When someone dies, it can feel like you're alone in your grief. At Dougy Center, you will find support, resources, and connection before and after a death.
Grief Resources & Toolkits
Whether you're grieving, or you're helping someone who is grieving, Dougy Center is here for you. Find tip sheets, activities, podcasts, and more through our personalized toolkits.
Find Grief Support Near You
Locate peer grief support groups in Portland and around the world.
What We Do
At Dougy Center, we create safe spaces and free resources for children and families who are grieving. Our pioneering peer grief support model, professional training, and world-renowned programs and advocacy bring hope and healing around the world.
The Impact of Dougy Center
Read stories about the positive impact of Dougy Center on children and families who are grieving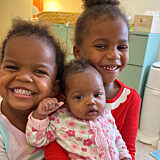 Finding support in the midst of grief
An important part of Dougy Center for the Brown family is feeling that they are not alone and being with others who truly understand what they are going through. Through their support groups, they have made deep and lasting friendships with people they now consider extensions of their own family. "Dougy Center has been an invaluable resource," said Adaire. "I consider myself to be a very intentional, resourceful, and protective mother when it comes to my children. However, I, alone, was not capable of managing their grief. Dougy Center can help to process and unpack all of those big feelings that can consume the hearts of adults and children alike."
Read the Full Story
Grief Out Loud Podcast
Grief Out Loud is our internationally acclaimed podcast where we talk openly about death, dying, and grief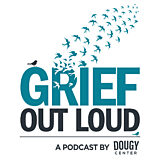 Latest Episode
September 8th, 2022
"We Did Everything We Could Not To Be Here"
This is a story about the people behind the numbers. A new study came out this week (September, 2022) estimating that 10.5 million children, across the globe, are grieving the death of a parent or caregiver from COVID-19. Lissa and Bryce's children are four of those. Bryce died in late December, 2021, after weeks in the hospital, receiving treatment for COVID-19. Throughout Bryce's illness and since his death, Lissa has done everything she can to answer her children's questions honestly and let them know they are in this together. She's also had to find ways to make space for herself to grieve her husband and all that they shared as a family. Here's that new study estimating the number of children impacted by COVID orphanhood/caregiver death. read more...
Go to Episode
Event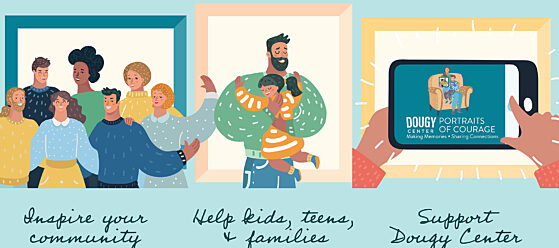 October 17th, 2022
Portraits of Courage Campaign 2022
Dougy Center's second annual event is being held as a month-long campaign to bring awareness to children and families who are grieving, and involves weekly fundraising incentives and peer-to-peer challenges. Portraits of Courage is an ideal way to bring new supporters to Dougy Center's community and you can help! With a kick-off on October 17, 2022, this campaign culminates with a virtual celebration on Children's Grief Awareness Day, November 17, 2022. Join us for this fun and educational month of supporting children and families who are grieving.
Read More
Dougy Center Receives $350,000 Grant from the Brave of Heart Fund
Childhood bereavement as a result of the pandemic is a public health emergency. Through the Brave of Heart Grant Fund, Dougy Center will add new tip sheets, activities, videos, podcasts, and activity books that focus specifically on grief after a death from COVID-19. Resources will be created in both English and Spanish and provided at no charge to families.
Dougy Center 2022 Grief Education Webinar: Becoming Grief-Informed: Foundations of Grief Education
Being grief-informed sets the foundation for understanding and responding to the needs of people who are grieving the death of someone in their lives. Misassumptions lead to misunderstanding and mis-treatment. Tune in for more information on this important topic, including the ten core principles of grief-informed practice.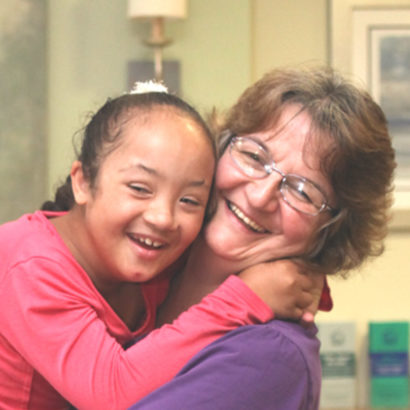 About Dougy Center
Dougy Center was founded in 1982 to support children and families who are grieving before and after a death. Today, The Dougy Center Model is world-renowned and has helped 55,000 people find hope and healing.
Find Out More