I've Missed Him At Every Milestone - Bridget
Nov 15th, 2023 | Episode 270
Bridget was in high school when her dad died of a heart attack in 2020. Their relationship was complicated. She loved the way her more creative side came out when they spent time together, but she also struggled with how he kept a lot of his history from her. In grieving for him, Bridget's had to reckon with two things being true at the same time. The first is that in some ways Bridget's life became easier and more stable after he died. The second is the reality that she still loves him, misses him, and wishes he could be there for all the milestones unfolding in her life.
This series is a part of an ongoing collaboration between Dougy Center and the New York Life Foundation. We are deeply grateful for New York Life Foundation's tireless support and advocacy on behalf of children and teens who are grieving.
Download a copy of the New York Life Foundation's newest resource for teens who are grieving - Lost in the Middle.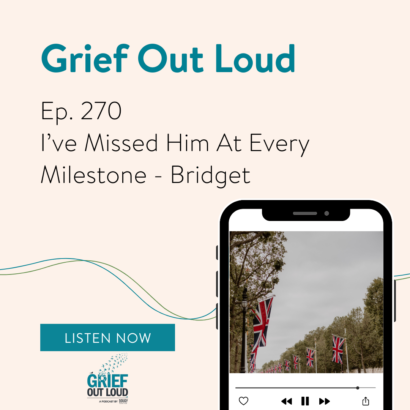 Support Grief Out Loud
"There are so many podcasts out there on grief but Grief Out Loud is one of only a few that focus on kids and families and strengthening those bonds after a loss. Jana DeCristofaro stands out as a smart, compassionate host who gets to the point of the story and goes deep with her guests. A great podcast for anyone dealing with loss."
Show your support for Grief Out Loud and open up more conversations about grief by donating or subscribing today. Your donations keep this podcast free from advertising and your 5-star reviews help others find us.
Grief Out Loud is supported in part by the Chester Stephan Endowment Fund in loving memory by the estate of Theodore R. Stephan.