It's So Much More Than What We Can See - Doreen Wiggins, MD
Dec 14th, 2018 | Episode 99
In 2000 Doreen Wiggins, MD began having vivid dreams that her husband was going to die. These dreams, combined with a session with an intuitive healer who confirmed her fears, prompted Doreen, who was already an accomplished surgeon, to seek out training in supporting grieving children. Then in 2009, while skiing in Colorado, her husband died suddenly due to hypertrophic cardiomyopathy. Doreen's fears had become a reality. Devastated and still needing to parent their 5 children, she first turned to therapy and then yoga, finding a lifeline in what would become a daily practice. This overlap of her medical training and the benefits of yoga sparked her interest in researching how grief affects us physiologically, emotionally, and spiritually.
If you or someone you know is struggling with thoughts of suicide, please reach out for help.
24/7 Crisis Text Line: Text Hello to 741741 24/7 Crisis Phone Line: 1-800-273-8255 (TALK)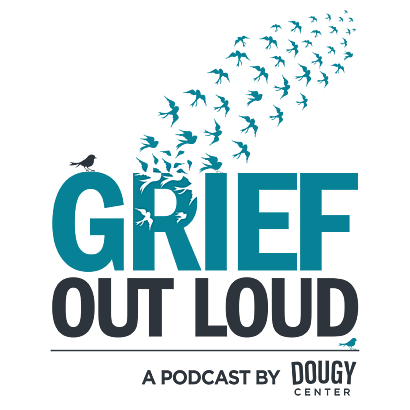 Support Grief Out Loud
"There are so many podcasts out there on grief but Grief Out Loud is one of only a few that focus on kids and families and strengthening those bonds after a loss. Jana DeCristofaro stands out as a smart, compassionate host who gets to the point of the story and goes deep with her guests. A great podcast for anyone dealing with loss."
Show your support for Grief Out Loud and open up more conversations about grief by donating or subscribing today. Your donations keep this podcast free from advertising and your 5-star reviews help others find us.
Grief Out Loud is supported in part by the Chester Stephan Endowment Fund in loving memory by the estate of Theodore R. Stephan.