Grieving Through Valentine's Day
Feb 12th, 2015 | Episode 5
Valentine's Day is one of the many holidays that shift and change while grieving. As with so many other holidays, the lead-up can be really hard. Advertisements and casual conversations about plans can leave grieving people left out, or eager to flee.
In this episode of Grief Out Loud, Jana and Brendon talk about strategies for approaching Valentine's Day in a way that opens up space to express love and appreciation.
Some ideas mentioned in this episode:
Decide on what traditions you and/or your children want to uphold and then figure out who will be responsible for what.
Connect with others you find to be supportive - this might look like setting up a phone call, email chat, or getting together for dinner.
Schedule some self-care that feels replenishing: go for a hike, check out a new movie, take a yoga class, meet up with friends, journal, or cook a nourishing meal.
Ask your kids what helps them feel energized or calm - we sometimes forget that kids need self-care too.
Volunteer for an organization or event that is meaningful to you.
Send cards, flowers, or an email to friends and family who might also be going through a hard time.
If it feels right, create a ritual or activity connected to the person who died. Ideas include, make a meal they enjoyed, go to their favorite restaurant, make or buy a card for them.
Many kids like to bring something - card, flowers, balloons, to the grave site. If there isn't one, you could put them where you keep the ashes or visit the place where the ashes were spread. Or if that's not possible, display an image of that place.
Write a card or letter to the person who died. You might write about: events you want them to know about (your son's first soccer game, a promotion at work, a description of a sunrise you recently saw, etc), things you are grateful to them for, ways in which you and your family have grown or changed, or anything that comes to mind. You can keep, bury, or burn what you write.
Whatever you decide, go easy on yourself. There can be so much pressure, both internal and external to think or feel a certain way. Know that it's okay to feel whatever you feel (sadness, anger, numbness, irritation, etc), leading up to and on the actual day.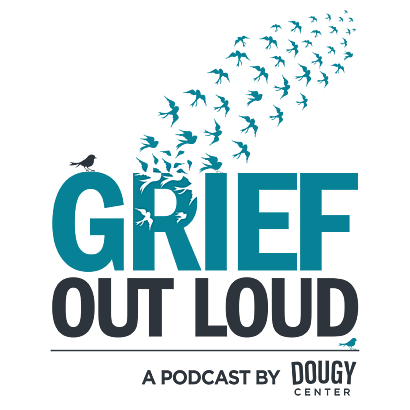 Support Grief Out Loud
"There are so many podcasts out there on grief but Grief Out Loud is one of only a few that focus on kids and families and strengthening those bonds after a loss. Jana DeCristofaro stands out as a smart, compassionate host who gets to the point of the story and goes deep with her guests. A great podcast for anyone dealing with loss."
Show your support for Grief Out Loud and open up more conversations about grief by donating or subscribing today. Your donations keep this podcast free from advertising and your 5-star reviews help others find us.
Grief Out Loud is supported in part by the Chester Stephan Endowment Fund in loving memory by the estate of Theodore R. Stephan.