An Unexpected Devastation
Nov 27th, 2018 | Episode 97
For Camila, death came barreling into her world with zero warning. When she was 21 her world shifted on its axis on an average morning in September. She woke up in the house she shared with her mother in the Bay Area expecting just another day. Then, she went to check on her mother, only to find that she had died in her sleep. There were no warning signs. No indicators that anything was amiss. Her mom was there and then she wasn't. In the 9 years since that morning, Camila has grieved intensely and intently. She's searched for connections with her mother, finding an outlet for expression in writing.
Check out Camila's recently published book of poetry: The Progression of Grief.
Full text of the poem Camila reads at the end of the episode:
The Absence of Her As the crisp November breeze Drowns out the rest of October, The aching sadness Meanders in. At first, I attribute it To anxiety, To my fear of scarcity Rooted from fantasy nightmares Instead of reality. I want to blame it on The cold Or how nostalgic the Changing seasons Makes me feel. But as the days pass, And it becomes mid November, And the familiarity of this pain Settles into all the crevices of my heart, I know what this really is. My grief returns, Amused mildly at my assessment That it ever left. As the orange and yellow leaves Are more present crumbled on the ground Than dancing on the branches, I feel myself pulling inwards. In the absence of The lady in purple, The woman who always made me feel Like everything would be okay, I have created a life that I love. A life better than I ever Could have imagined. And yet, The absence of her, At times -- Many times, Still feels gaping, Still feels unjust, Still feels like I will never recover. In the absence of The lady in purple, I allow myself to see all The signs of hope and connection, Always craving another connection to her. As we barrel forwards, Approaching another holiday season, Another winter, Another year, The hole within me still feels gaping, Still feels empty, Still craving her love and comfort to fill it. ~Camila Martin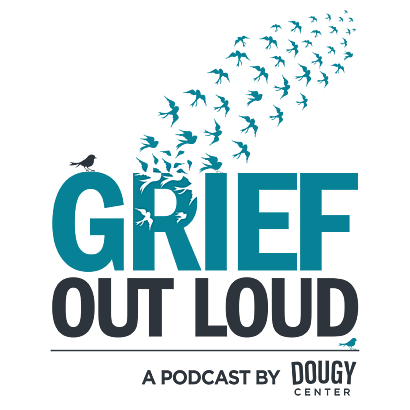 Support Grief Out Loud
"There are so many podcasts out there on grief but Grief Out Loud is one of only a few that focus on kids and families and strengthening those bonds after a loss. Jana DeCristofaro stands out as a smart, compassionate host who gets to the point of the story and goes deep with her guests. A great podcast for anyone dealing with loss."
Show your support for Grief Out Loud and open up more conversations about grief by donating or subscribing today. Your donations keep this podcast free from advertising and your 5-star reviews help others find us.
Grief Out Loud is supported in part by the Chester Stephan Endowment Fund in loving memory by the estate of Theodore R. Stephan.