A Mother's Story - Sue Klebold
Nov 20th, 2017 | Episode 65
Sue Klebold is the mother of Dylan Klebold, one of the two shooters at Columbine High School who, in 1999, killed twelve students and a teacher, and wounded more than 20 others before taking their own lives. In our conversation with we explore how current day mass tragedies continue to affect her. We also look at how tragedies like Columbine occur - and how someone's thinking can become suicidal and homicidal. Before publishing her book, A Mother's Reckoning: Living in the Aftermath of Tragedy, Sue spent 15 years excavating every detail of her family life, and trying to understand the crucial intersection between mental health problems and violence. Instead of becoming paralyzed by her grief and remorse, she worked to advance mental health awareness. Sue is donating all author's profits from her book to organizations that promote brain health and prevent suicide.
Resources mentioned in this episode: Sue's TED Talk,
My son was a Columbine shooter. This is my story.
https://www.ted.com/talks/sue_klebold_my_son_was_a_columbine_shooter_this_is_my_story Sue's Book,
A Mother's Reckoning: Living in the aftermath of Tragedy
http://amothersreckoning.com/ If you or someone you know needs help, please contact the National Suicide Prevention Hotline at 1-800-273-TALK (8255) Music: "Which That Is This?" by Doctor Turtle From the Free Music Archive CC BY http://freemusicarchive.org/music/Doctor_Turtle/Jonahs_Message_for_New_York/Which_That_Is_This Music: "I Thought of Pills" by Lee Rosevere From the Free Music Archive CC BY http://freemusicarchive.org/music/Lee_Rosevere/The_Big_Loop_-_FML_original_podcast_score/Lee_Rosevere_-_The_Big_Loop_-_FML_original_podcast_score_-_07_I_Thought_Of_Pills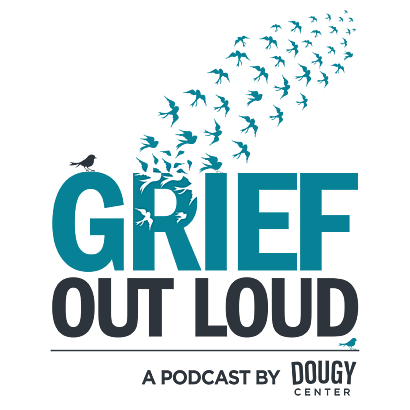 Support Grief Out Loud
"There are so many podcasts out there on grief but Grief Out Loud is one of only a few that focus on kids and families and strengthening those bonds after a loss. Jana DeCristofaro stands out as a smart, compassionate host who gets to the point of the story and goes deep with her guests. A great podcast for anyone dealing with loss."
Show your support for Grief Out Loud and open up more conversations about grief by donating or subscribing today. Your donations keep this podcast free from advertising and your 5-star reviews help others find us.
Grief Out Loud is supported in part by the Chester Stephan Endowment Fund in loving memory by the estate of Theodore R. Stephan.